Kangaroo Island is one of the final frontiers of wild Australia; a veritable Noah's Ark for some of Australia's most iconic and rare animals.
Tucked within this island paradise on a 150-acre registered wildlife sanctuary lies Ecopia Retreat. Completely immersed in pristine bushland – much of which we have planted over the past decade as part of extensive conservation and revegetation projects - Ecopia is a hidden oasis for nature lovers and native wildlife alike. Here, you can check into the ultimate eco-luxury Kangaroo Island accommodation and tune into nature.
Wake up to a chorus of birdsong and kangaroos grazing beyond your window. Wander among echidnas and wallabies on your morning walk and follow the unmistakable calls of koalas lazily lounging in the eucalypt canopies above. Spot goannas sprawled on sun-drenched rocks and explore our property's lagoons and river systems where Black Swans and their cygnets await. When the sun goes down, meander through Ecopia's moonlit bushland paths and spot nocturnal inhabitants including possums and owls.
This is Australia as nature intended; take your time as you take it all in. Wildlife lovers who truly immerse themselves in our sanctuary will be rewarded with unforgettable encounters in the wild. And that's all without leaving Ecopia. Beyond our sanctuary, Seal Bay, Flinders Chase National Park and Hanson Bay Wildlife Sanctuary are on your doorstep and play host to more of Kangaroo Island's unique residents. Here's our nature lover's guide to the top wildlife encounters at Ecopia Retreat and beyond.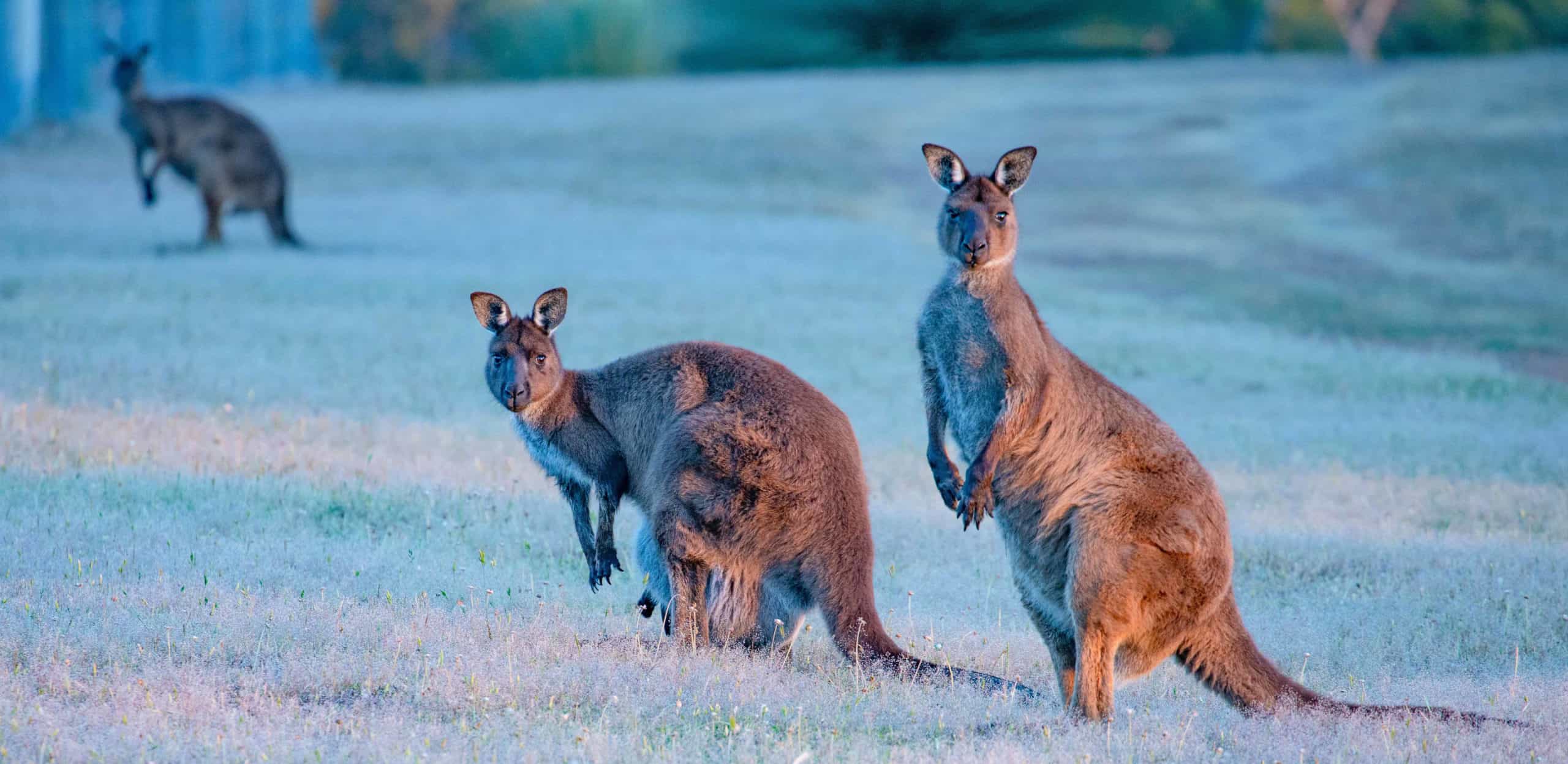 TOP FIVE WILDLIFE ENCOUNTERS AT ECOPIA RETREAT
1. Kangaroos
It's no surprise Kangaroo Island earnt its name from its abundant population of the Australian icon. Endemic to the island, the Kangaroo Island Kangaroo – a subspecies of the Western Grey Kangaroo – is smaller and darker than its mainland relatives. Their thick, chocolate-brown fur is reminiscent of a teddy bear and their calmer nature means they can be observed unencumbered in the wild. At Ecopia, our resident mob are kangaroos are part of the landscape. Grazing in native grasses just beyond your villa window, sprawled under a shady gum with their young or cooling off at the river, there are endless opportunities to encounter these beautiful marsupials in the wild around our Kangaroo Island wildlife sanctuary.
2. Koalas
The silver shimmering gums which blanket Ecopia provide an ideal environment for our resident koalas to thrive. Koalas can often be spotted just beyond the villa windows, but those who take their time to truly explore the property are almost guaranteed plentiful encounters. Scan the upper reaches of towering gums, in particular the highest forks, where koalas like to doze, or cast your eyes down to the ground for the tell-tale signs of koala droppings at the base of trees and scratchings on the trunk. Did you know that Kangaroo Island is home to Australia's only chlamydia-free population of koalas, considered crucial to the survival of the species nationwide?
3. Tammar Wallabies
Once listed as extinct on mainland Australia, Tammar Wallabies are thriving on Kangaroo Island. The dense bushland thickets around Ecopia play host to an impressive population of these nocturnal marsupials, making wallaby sightings part of daily life at the sanctuary. By day, you'll likely find our resident Tammars resting in the mallee undergrowth, from dusk until dawn they are out to play. Grab your wildlife spotting torch (supplied in your accommodation) and head out on a twilight stroll to observe their antics. Brush-tailed Possums, Boobook Owls and even kangaroos and koalas can also be spotted on a starlit adventure at Ecopia.
4. Short-beaked Echidnas
Kangaroo Island's echidnas are a distinct sub-species of their mainland relatives with longer, paler spines. Considered an endangered species on Kangaroo Island, Ecopia is lucky to play host to a number of Short-beaked Echidnas. The sanctuary's tranquil bushland setting presents some of the best opportunities to catch a glimpse of these solitary and illusive creatures. Keep an eye out for the egg-laying monotremes in thick bushland undergrowth or nestled around rocks and logs. During breeding season from June to September you may even spot an echidna train.
5. Birdlife
Your stay at Ecopia Retreat will be set to a soundtrack of birds. The expansive native vegetation sprawling across the sanctuary provides vital habitat for more than a dozen different native bird species. From birds of prey like Wedge-tailed Eagles, which can be spotted almost every time you turn your eyes to the sky, to the endangered Glossy Black Cockatoo, which has found crucial new breeding grounds at Ecopia following the 2020 bushfires, Ecopia is a twitcher's paradise. Kestrels, Southern Boobooks, Scarlet Robins, Grey Fantails, Superb Fairy Wrens and Black Swans all flock to the native trees, lagoons and the Eleanor River which flows through our property. For a full rundown of our avian residents, check out our bird-lover's bucket list guide to Ecopia.
Ecopia wildlife spotting bucket list
Kangaroo Island Kangaroo
Koala
Tammar Wallaby
Short-beaked Echidna
Brush-tailed Possum
Rosenberg's Goanna
Glossy Black Cockatoo
Wedge-Tailed Eagle
Black Swan
Southern Boobook
Kestrel
Superb Fairy Wren
Scarlet Robin
Crimson Rosella
When is the best time to see wildlife on Kangaroo Island?
Wildlife is abundant on Kangaroo Island year-round and each season offers unique wildlife spotting opportunities. Visit the island from August to February to see kangaroo, wallaby and koala joeys as marsupial young begin to emerge from the protection of their mother's pouches. Come winter, keen-eyed nature lovers can spot the curious echidna mating train, and June to September also offer the best whale-watching opportunities. Those who wander at dusk and dawn when animals are generally at their most active will be rewarded with the most prolific and memorable encounters.
WILDLIFE EXPERIENCES ON KANGAROO ISLAND BEYOND ECOPIA
1. Hanson Bay Wildlife Sanctuary
Just over half an hour from Ecopia, Hanson Bay Wildlife Sanctuary is a privately-owned conservancy providing natural habitats for native animals to live in the wild. Koalas, kangaroos, wallabies, possums, echidnas, goannas and an array of birdlife can be spotted on a guided tour of this Kangaroo Island wildlife park.
2. Seal Bay
Less 20 minutes' drive from Ecopia lies Seal Bay, home to the third-largest colony of endangered Australian Sea Lions in the world. Here, you can wander right onto the beach and watch sea lions in their natural habitat, lounging on the beach and playing in the surf. A visit during summer months will guarantee seal pup sightings. You may even spot Bottlenose Dolphins frolicking in the waves beyond.
3. Flinders Chase National Park
About 40 minutes from Ecopia on the north-west coast of Kangaroo Island, Flinders Chase National Park is a nature lover's paradise. This rugged wilderness is home to abundant wildlife and incredible natural wonders like Remarkable Rocks and Admiral's Arch. Severely impacted by the 2020 Kangaroo Island bushfires, nature's full regeneration powers are now on show at the park with vegetation bouncing back and large numbers of wildlife returning. Goannas, koalas, eagles, kangaroos and echidnas are regularly spotted, while down by the water you'll find a colony of Long-nosed Fur Seals.
BOOK YOUR KANGAROO ISLAND ACCOMMODATION
Ready to book your nature-based escape? Check out our availability then book your Kangaroo Island accommodation at Ecopia Retreat.